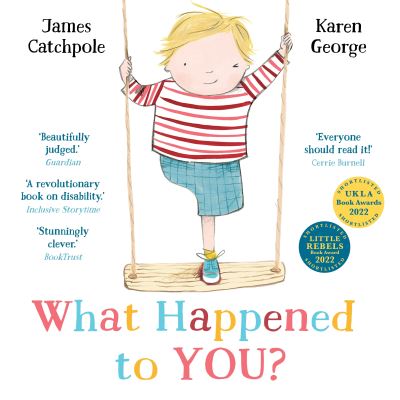 What Happened to You?
Out of stock
Imagine you were asked the same question again and again throughout your life. Imagine if it was a question that didn't bring about the happiest of memories. This is the experience of one-legged Joe, a child who just wants to have fun in the playground. Constantly seen first for his disability, Joe is fed up of only ever being asked about his leg. All he wants to do is play Pirates. But as usual, one after the other, all the children ask him the same question they always ask, 'What happened to you?'
The first ever picture book addressing how a disabled child might want to be spoken to.

What happened to you? Was it a shark? A burglar? A lion? Did it fall off?
Every time Joe goes out the questions are the same . . . what happened to his leg? But is this even a question Joe has to answer?
A ground-breaking, funny story that helps children understand what it might feel like to be seen as different.
'A revolutionary book on disability.' Inclusive Storytime
'Catchpole's beautifully judged, child-friendly words ably evoke the fatigue and wariness of repeatedly being asked the same question rather than simply being accepted and allowed to play, while George's warm images amplify the delight of shared imagination.' The Guardian
'Wonderful, delightful and important. […] Not only will it help nondisabled adults and children understand what it is like to be singled out for being different, but it will empower disabled children and help them realise they don't have to justify themselves to people they don't know.' Jen Campbell, bestselling author of Franklin's Flying Bookshop
'With beautifully characterful illustrations and plenty of calming white space, it exudes gentle energy and humour to appeal to every child. This is a stunningly clever book.' BookTrust
'The beauty of What Happened to You? is its focus on empathy… a brilliant book to open up the conversation with pre-school kids.' Disability Arts Online
'A groundbreaking picture book reflecting the world of a visibly disabled child… a funny and very enjoyable read that will nevertheless perform an urgently needed task and generate very useful discussion at home and school.' LoveReading4Kids
Out of stock