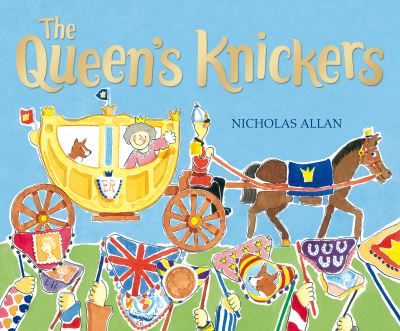 The Queen's Knickers
£6.99
Everyone can see the Queen's smart coats and dresses, but what does she wear underneath, particularly for a school visit? Through the eyes of a little girl hoping for a school visit by the Queen, the range of royal underwear is revealed here.
It's a busy year for the Queen – she has lots of important events to attend. Meanwhile, a little girl is wondering what knickers Her Majesty will choose to wear on a school visit! Will they be her 'at home' knickers – adorned with corgis – or her 'garden party' knickers, or perhaps her woolly Balmoral ones…?
Both children and adults will love this very special and endearing insight into a child's imagination, from the best-selling author-illustrator of Father Christmas Needs A Wee and Jesus' Christmas Party.
Recently, the Queen visited a nursery in Norfolk and enjoyed a display based on the book:
"…just to make it special, there was one element that was not quite so traditional: pants. These were not just any pants, either. They were the Queen's Knickers, and at Dersingham Infant and Nursery School, in Norfolk, they were put on special display in honour of their royal visitor" ~ Valentine Low, The Times
In stock