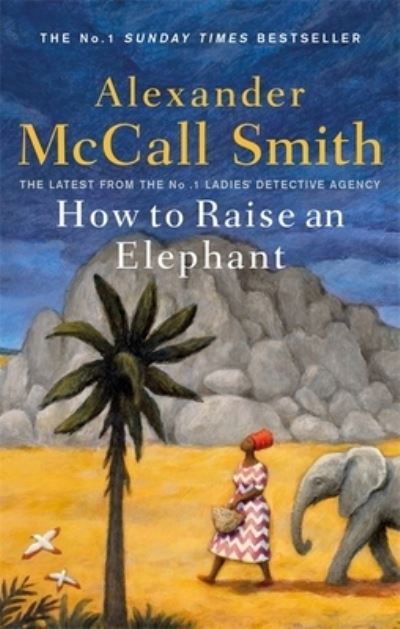 How to Raise an Elephant
£8.99
Unusual requests are commonplace at the No. 1 Ladies' Detective Agency, but so are very ordinary ones, such as a plea for money: when a distant cousin calls on Mma Ramotswe to ask for help with another relative's hip operation, tricky questions arise in regard to family responsibility. Mma Makutsi and Mr J.L.B. Matekoni are far from convinced of the merits of the request, but it is hard for Mma Ramotswe, with a heart her size, to turn people away. Meanwhile, Charlie has become involved in a mysterious transaction that involves an attractive but rather large animal. If it takes a village to raise a child, what does it take to raise a baby elephant?
The latest instalment from the beloved THE NO. 1 LADIES' DETECTIVE AGENCY series
Catch up on the latest from Mma Ramotswe, Mma Makutsi and other favourites in this new instalment of Alexander McCall Smith's The No. 1 Ladies' Detective Agency series.

As the temperature rises in Gaborone, Precious Ramotswe, founder of the No. 1 Ladies' Detective Agency, wonders whether the heat could be the reason that business is particularly slow. Luckily, a slower pace in life is her natural preference, unlike her colleague Mma Makutsi, who is alert to every passing observation and inclined to making snap decisions. With fewer cases to handle, Precious has time to contemplate her new neighbours, a couple who, by the sounds of it, have a rather volatile relationship . . .
But then a distant cousin of Mma Ramotswe's comes to the agency with a plea for help, and the ladies decide to pursue the issue together. Armed with Mma Ramotswe's circumspection and Mma Makutsi's sharp eye, they proceed with confidence and open hearts. What, after all, could be more straightforward than a family matter?
Meanwhile, their colleague Charlie is behaving oddly, borrowing Mma Ramotswe's van and returning it in an unusual condition. Digging a little deeper, the explanation is both strange and extraordinary, and takes Charlie, along with Mma Ramotswe's husband, Mr J. L. B. Matekoni, on a hair-raising night-time expedition.
In the end, Precious is reminded of the need to view a picture from every angle, to accept the imperfections in people and situations, and then find a solution – preferably over a delicious slice of her friend Mma Potokwani's fruit cake.
'Irresistible'
The Times
'Every page contains a gem of wit and insight'
Scotsman
In stock