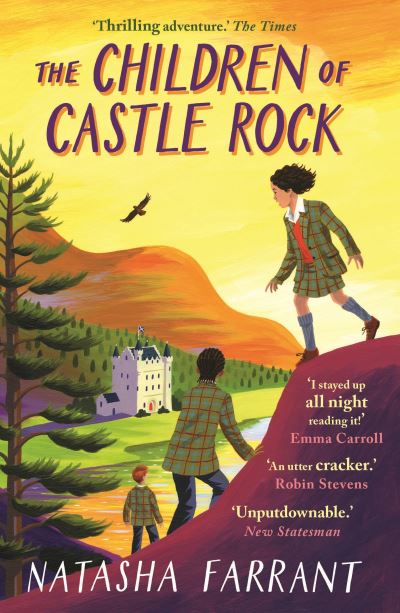 The Children of Castle Rock
£7.99
When Alice's family home has to be sold, she and her father Barney will do whatever it takes to buy it back – even if whatever it takes isn't strictly legal. And when Alice is expelled and sent away to an isolated boarding-school, she'll do whatever it takes again to get away. But Stormy Loch Academy isn't quite what she expected. With its strange rules and eccentric headmaster and rag-tag mix of students and teachers, it has a way of growing on you. Still, when Barney goes missing (all that not strictly legal business) she knows she has to rescue him. Armed with two new friends, she sets off on an epic quest through the wild Scottish highlands and islands to finally get her heart's desire – but does she know anymore exactly what that is?
St Trinians and Lauren St John collide in this hilarious and thrilling bestselling adventure from Natasha Farrant!
When Alice Mistlethwaite is shipped off to boarding school in Scotland it's nothing like she imagines. Run by the mysterious Major, there are no punishments and the students are more likely to be taught about body painting or extreme survival than maths or English!
Then Alice's dad goes missing and she must run away to find him. Can she persuade her new friends to help?
So begins an epic quest across wild Scottish highlands and islands, where friendships will be made and broken, lies will be untangled and the children will face danger and excitement at every turn . . .
Both hilarious and heartfelt, this is the classic adventure story brought bang up to date, and told in Natasha's inimitable voice.
'Thrilling adventure.' The Times
'This wise and touching novel has originality and a fresh voice.' Sunday Times
'A gripping adventure . . . I stayed up all night reading it!' Emma Carroll, author of Letters from the Lighthouse
In stock