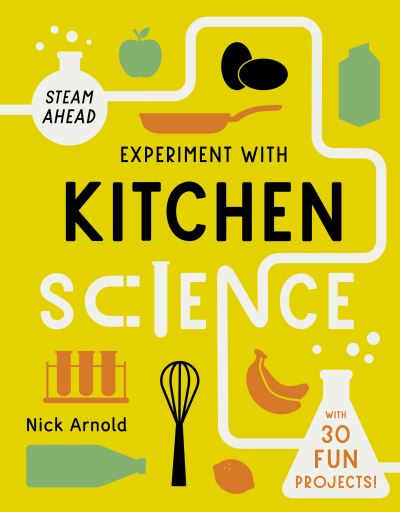 Experiment With Kitchen Science
£11.99
In Experiment with Kitchen Science, ?take science out of the lab and into your home with this book of fun experiments to try out in your kitchen!
Grab an apron and try some quick and easy, step-by-step experiments in your kitchen, in this fully illustrated and fun-filled book.
Science isn't limited to the classroom – it can be cooked up in the kitchen! This photographic book of experiments and projects covers covers chemical reactions, states of matter, microbiology and much more - all with ingredients and equipment that can be found in the kitchen.
Discover how to make massive marshmallows, a crazy lemon volcano, baked ice cream and more, all using household items.
Featuring sections on mad mixtures, floating and forces, colourful chemistry, heating and eating and things that are easy freezy, you're sure to get a taste for kitchen science!
The STEAM Ahead series shows readers that science isn't limited to the classroom – it can be found out in the garden, cooked up in the kitchen and brought to life with paper and paints! Each book features clear, step-by-step instructions and has a fresh, contemporary design, with an emphasis on fun, achievable experiments to give kids hands-on experiences. The science behind each experiment is explained, giving readers the theory behind the practical activities. 
Titles in the series include:
STEAM Ahead: Experiment with Kitchen Science
STEAM Ahead: Experiment with Outdoor Science
?STEAM Ahead: Experiment with Art
STEAM Ahead: Experiment with Engineering
In stock