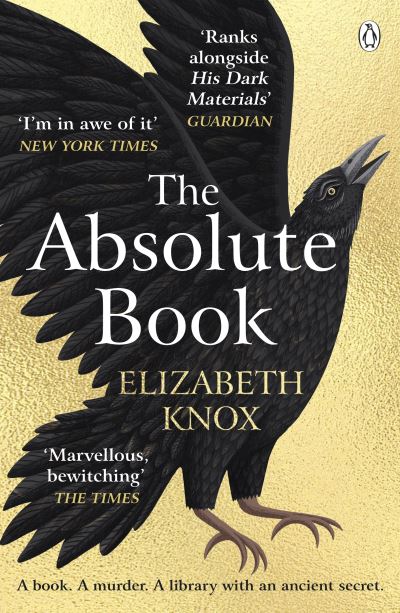 The Absolute Book
£8.99
Taryn Cornick believes her sister Bea was deliberately run down and killed. She believes it so hard she allows a man called the Muleskinner to exact the justice Bea was denied. An eye for an eye. Which is when Taryn's problems really begin. Because the police suspect Taryn's involvement in the death. Worse, others have their eyes on Taryn – those in a faraway place who know what Taryn's family have been carefully hiding in their vast library. The Absolute Book. They want it – and they want Taryn to help find it. For the lives of those in more than one world depend upon it.
DISCOVER THE ENCHANTING EPIC THAT WILL TRANSPORT YOU TO OTHER WORLDS . . .
'AN INSTANT CLASSIC' GUARDIAN
'BEWITCHING' THE TIMES
'MIND-BLOWING' LAINI TAYLOR
'ASTOUNDING' FRANCIS SPUFFORD
'GORGEOUSLY WRITTEN' DEBORAH HARKNESS
_______
Taryn Cornick barely remembers the family library. Since her sister was murdered, she's forgotten so much.
Now it's all coming back. The fire. The thief. The scroll box. People are asking questions about the library. Questions that might relate to her sister's murder.
And something called The Absolute Book.
A book in which secrets are written – and which everyone believes only she can find. They insist Taryn be the hunter. But she knows the truth.
She is the hunted . . .
The Absolute Book is a tale of sisters, ancient blood, a forgotten library, murder, revenge and a book that might just have the answer to everything.
_______
'An instant classic . . . A work to rank alongside other modern masterpieces of fantasy such as Philip Pullman's His Dark Materials series or Susanna Clarke's Jonathan Strange and Mr Norrell. Everything fantasy should be: original, magical, well read, compelling' GUARDIAN
'Astonishing. Gripping. Hugely ambitious. An extraordinary conclusion. Admire the sheer scope and grandeur' DAILY MAIL
'A marvellous argument for stories. There are Norse gods, references to Merlin, a tour through purgatory and a strange parallel world where magic is real and humans are bit players in the clash of supernatural realms. Bewitching' THE TIMES
'Contains multitudes, spanning the geographies of Canada, Britain and New Zealand; the cosmologies of fairies, demons and angels; and the genres of thriller, domestic realism and epic fantasy . . . I'm in awe of it' NEW YORK TIMES Review of Books
'Intricately plotted and gorgeously written, THE ABSOLUTE BOOK has something for everyone . . . Here is a cinematic tale that is by turns dark and dreamlike, yet ultimately hopeful' DEBORAH HARKNESS, author of A DISCOVERY OF WITCHES
'Fantastical' THE TIMES
'Savour and absorb the world Knox conjures' SUNDAY TIMES
'Gorgeous. The payoffs and reveals are mind-blowing' LAINI TAYLOR, author of DAUGHTER OF SMOKE AND BONE
'An angelic book, an apocalyptic book, an astounding book' FRANCIS SPUFFORD
In stock