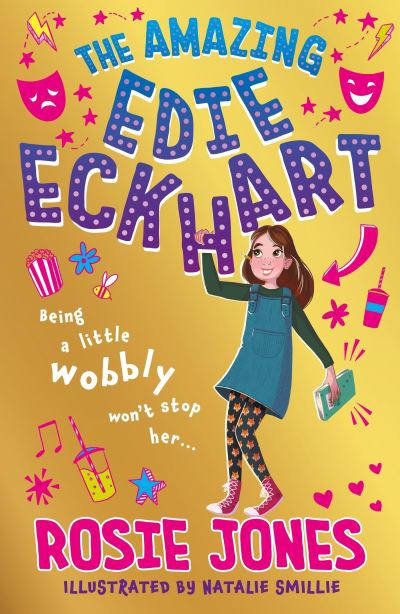 The Amazing Edie Eckhart
Out of stock
'Do you like chicken?' Oscar asked me. I nodded. 'Then take a wing'. Oscar offered me his arm and we linked each other into the school hall. Edie has cerebral palsy, but she's used to it because she's spent her whole life being a bit wobbly. She can't wait to start secondary school with her best friend Oscar and share sausage rolls with him at breaktime. But when Oscar scuppers these plans by getting his first ever girlfriend, GROSS, Edie eventually decides to stop feeling sorry for herself and find a boyfriend, so she can prove to Oscar she's grown up too.
A sparky middle-grade series from TV comedian Rosie Jones. Perfect for fans of Jacqueline Wilson and DORK DIARIES.
'Fresh, funny and ultra cool' – Jacqueline Wilson
Hello! My name is Edie Eckhart and I'm eleven years old. I'm a little bit different. I have a disability called cerebral palsy, so I talk slowly and fall over a lot. It's never really bothered me because I've never known anything else.
Edie Eckhart is Excited with a capital E to start secondary school with her best friend Oscar – the fish to her chips, the bananas to her custard. But when she and Oscar are put into different tutor groups on their first day, Edie is devastated. Who will play secret hangman with her in class? Who will she eat sausage rolls with?
But while she's plotting her reunion with Oscar, she accidentally gets cast as the lead in the school play. As Edie discovers a passion for performance, she also finds new friendships, talents, and dreams. After all, it's easy to shine on and off the stage when you're Amazing with a capital A.
'This book is as funny and warm as a sausage roll. I loved it!' Jenny McLachlan, author of Land of Roar

'Enjoyable and uplifting. Everyone needs an Edie Eckhart in their lives.' Jen Carney, author of The Accidental Diary of B.U.G
Out of stock