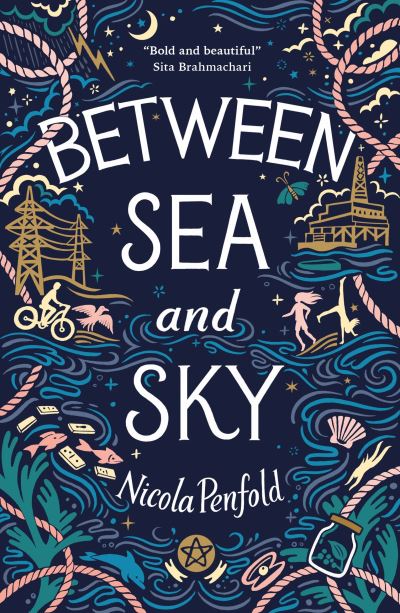 Between Sea and Sky
£6.99
Pearl lives on a floating oyster farm with her sister and father, and refuses to set foot on land following the death of her mum. But when Nat comes from the mainland to spend the summer with the family, he shares a secret that forces Pearl to risk everything?
In a near future where a series of environmental disasters has left much of the country underwater, Pearl lives on a floating oyster farm with her father and younger sister, Clover. Following her mum's death several years earlier, Pearl refuses to set foot on land, believing her illness was caused by the poisons in the ground. Meanwhile, Clover dreams of school, friends and a normal life.
Then Nat comes to spend the summer at the sea farm while his scientist mum conducts some experiments. Leaving behind the mainland, with its strict rules and regulations, he brings with him a secret. But when the sisters promise to keep his secret safe, little do they realize that they may be risking everything?
A thrilling and thought-provoking ecological adventure from the author of the highly acclaimed WHERE THE WORLD TURNS WILD. Perfect for fans of THE EXPLORER, THE LAST WILD and WHERE THE RIVER RUNS GOLD.
PRAISE FOR
BETWEEN SEA AND SKY
:
"Atmospheric, memorable, extraordinarily gripping, this is storytelling at its finest."
–
The Guardian
"I loved Penfold's debut ? and this confirms her as a rising star of children's fiction, mixing a thrilling evocative adventure with pertinent themes of the environment and recovery."
– Fiona Noble,
The Bookseller
"A beautifully told adventure that will have readers, like its protagonists, diving deep to discover the fragility of our eco-system and emerging emboldened to protect its delicate balance."
– Sita Brahmachari, author of
Where the River Runs Gold
"A message to us all in the most powerful, evocative and hopeful story spinning."
– Hilary McKay, author of
The Skylarks' War
"I loved Between Sea and Sky. I was totally immersed? I could almost smell the sea and feel salt in my hair. Powerful storytelling and a thought-provoking tale."
– Gill Lewis, author of
Sky Hawk
"A shimmering testament to the restorative power of nature and the limitless wonder unearthed by childhood curiosity."
– Piers Torday, author of
The Last Wild
"BOSS level MG dystopia, so vivid!"
– Louie Stowell, author of
The Dragon in the Library
"Nicola Penfold makes me want to love our planet harder, hold it closer."
– Rashmi Sirdeshpande, author of
How to Change the World
"This is compelling, high-stakes storytelling? This will be a favourite that I will return to over and over again."
– Nizrana Farook, author of
The Girl Who Stole an Elephant
"An original and wonderful story of wild children and a world in trouble ? so perfectly written that reading it is living it. And living it is an adventure." – Rachel Delahaye, author of Mort the Meek
In stock